Uebe visomat comfort form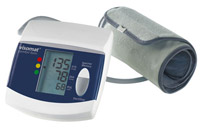 Uebe visomat comfort form...
Price: € 49,50 €*

"Regularly blood pressure measurement with visomat protects from undetected high blood pressure - one of the major risk factors for cardiovascular diseases. With the electronic visomat blood pressure monitors, you can always measure your blood pressure automatically. Whether at home or on the way.

Skin-compatible Universal shell cuff for the whole family for normal to extra strong arms (23-43 cm)

Arrhythmia control = detection of arrhythmias by optical signal

Traffic light function for easy classification of blood pressure values

Pulse pressure indicator

validated measurement accuracy according to DIN-EN and ESH (European Society of Hypertension)

Memory for 30 readings and average display

handy zip pocket for storage

Power connector for mains (AC adapter optional)

3 years warranty"