Uebe visomat douple comfort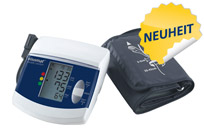 Uebe visomat douple comfort...
Price: € 62,50 €*

"Regularly blood pressure measurement with visomat protects from undetected high blood pressure - one of the major risk factors for cardiovascular diseases. With the electronic visomat blood pressure monitors, you can always measure your blood pressure automatically. Whether at home or on the way.

Upper Arm Blood Pressure Monitor with 2 measuring methods

Skin-compatible Universal Microphone bracket sleeve for arm circumferences of 23-43 cm

Arrhythmia control = detection of arrhythmias by optical signal

Traffic light function for easy classification of blood pressure pulse pressure indicator

2 user profiles, each with 60 memory locations and average display

Clock to automatically adjust the time and date

USB port with analysis software (for Windows OS)

validated accuracy to ISO 81060-2 and ESH (European Society of Hypertension)

handy zip pocket for storage

Power connector for mains (AC adapter optional)

3 years warranty"